Electric Yellow Cichlid
(Labidochromis caeruleus)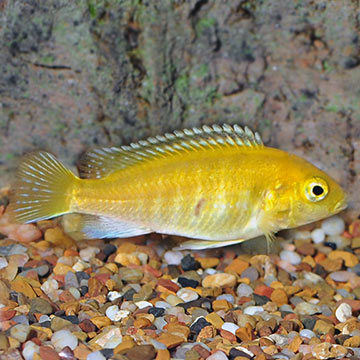 Please Note: Due to variations within species, your item may not look identical to the image provided. Approximate size range may also vary between individual specimen.
Please Note: Due to variations within species, your item may not look identical to the image provided. Approximate size range may also vary between individual specimen.
Overview
The Electric Yellow Cichlid is set apart from other African Cichlids by its striking electric yellow coloration. It injects an irresistible splash of bold color to the cichlid aquarium. Mature specimens flaunt contrasting horizontal black stripes and vertical bars to provide additional visual interest.
The Electric Yellow African Cichlid is also known as the Yellow Lab or Electric Yellow Lab. Considered a newer species and referred to commercially as Labidochromis tanganicae, this cichlid lives in the waters of Lake Malawi between the islands of Charo and Mbowe. First displayed at Burundi in the early 1980's and exported from there, the Electric Yellow was mistakenly believed to come from Lake Tanganyika.
A peaceful and shy cichlid compared to other African Cichlids, the Electric Yellow still displays distinct social and territorial behaviors. The Electric Yellow will act aggressively towards fish of similar body shape and color perceived to be a threat for food and mate. The aquarium should include a sandy bottom, robust plants, caves, and rocks.
The female lays her eggs on the surface of rocks and then scoops them into her mouth where they brood for 18 days before being released.
The Electric Yellow Lab needs both meaty foods and greens such as brine shrimp, bloodworms, and quality flake or pellet food containing vegetable matter.
Approximate Purchase Size: Small: 1" to 1-1/2"; Medium: 1-1/2" to 2"; Large: 2" to 3"
Customer Testimonials
Zachariah B
East Bend , NC
I have 2 Electric Yellow Cichlids in my tank with many other peaceful community fish. They have never hurt them at all and they stand out really nice!
Eff L.
Bowie , MD
I started out with only 2 of these guys and now I have about 40! They love to breed and with my 150 gallon they always have somewhere to go.
Charles R
Hollywood , FL
I love this fish, even though I am 14 years old. I just got two of these electric yellow cichlids and I just love them. Their color stands out over any of my other cichlids. I would recommend this fish to any one who is starting a cichlid tank.
Matt M
Iowa City , IA
I just added one Electric Yellow African Cichlid to my tank and love it. Its colors are the best I have seen in freshwater. I ordered a second one, and they both swim together. I highly recommend this fish to anyone that is interested in Cichlids.
Marc K
Raynham , MA
The Electric Yellow African Cichlid is a little less aggressive than other types of Malawi Cichlids and also tends to grow a little slower. They are very easy to breed if water parameters are correct.
Rick M
Duvall , WA
I have had many types of fish over the 20 years of this hobby. However the Electric Yellow African Cichlid tank I set up is by far the most enjoyable ever. The color plus interaction of this species is just spectacular.
David K
San Diego , CA
These are truly one of my favorite types of fish. I have always kept only two in any of my freshwater tanks, reason being that they have so much character to them that no more then two are needed. They are affectionate and playful when paired. Highly recommended to new fish lovers.
Kevin
I bought a pair of these...in size "small" and they are a great size and a vivid yellow. They are very active and add personality and color to my tank. I don't find them too aggressive with my other community fish at all.
Sandy
NY
Great fish! Beautiful and peaceful with my three other cichlids. It does hide a bit, but comes out quite often.
Issiah L
Fairfield , PA
I just recieved 2 of these active,bueatiful,and intelligent fish for my 15 birthday.they make great pets and add a bueatiful array of color to a semi-agressive tank. I would recommend these fish to anyone who wan'ts to add very brilliant colors to their tank. Foster and smith has great products enjoy these bueatiful fish.