Powder Brown Tang
(Acanthurus japonicus)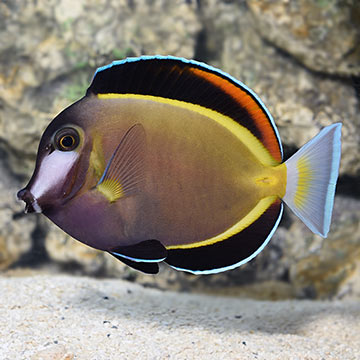 Please Note: Due to variations within species, your item may not look identical to the image provided. Approximate size range may also vary between individual specimen.
Please Note: Due to variations within species, your item may not look identical to the image provided. Approximate size range may also vary between individual specimen.
Powder Brown Tang
(Acanthurus japonicus)
Additional locales and sizes may be available!
Additional locales and sizes may be available!
Email me when available
Overview
The Powder Brown Tang, also known as the Powder Brown Surgeonfish, Japan Surgeonfish, and White-faced Surgeonfish, has a brown body with a white mark on the cheek between the mouth and eyes. The pectoral, anal, and dorsal fins are dark brown with light blue highlights at the tip. The dorsal fin also has an orange stripe present. The tail is blue with a yellow vertical bar. Yellow striping runs along the body, against the anal and dorsal fins, forming a wishbone-shaped marking.
A 125 gallon or larger aquarium is necessary to provide plenty of swimming room. Keep only one Powder Brown Tang per tank. Use caution when housing with other Tangs or Surgeonfish. Similar shaped Tangs can be very aggressive towards each other.
Although Tangs will eat meaty foods along with the other fish in the aquarium, it is important that they are offered plenty of marine based seaweed and algae. This will strengthen their immune system, reduce aggression and improve their overall health. Offer dried seaweed tied to a rock or use a veggie clip, and feed at least 3 times per week. Sea Veggies, Seaweed Salad and Ocean Nutrition are all ideal products and are very easy to use.
Approximate Purchase Size: Small: 2" to 2 1/2"; Small/Medium: 2 1/2" to 3" Medium: 3" to 4"; Medium/Large: 4" to 5" Large: 5" to 6"
Supplies You May Be Interested In
Customer Testimonials
Harin Patel
P , NJ
The Powder Brown Tang truly is an elegant selection; very passive and probably the more beautiful species amongst tangs. I have this fish in a reef tank with soft corals and polyps and it has never bothered any of my corals. This fish also has a very healthy appetite and will eat small pellet foods, brine shrimp and spirulina flakes without hassle. I would definitely recommend this fish to anyone who is looking for a beautiful, tropical ocean addition to the landscape of their aquarium. The soft blues, yellow, gray and light brown colors of this fish compliment the colors of the corals in my tank.
Chad M
Englewood , CO
I have a medium specimen in my reef tank and he is definitely the showcase fish in the tank - beautiful markings. The iridescent blue outlines on the dorsal and caudal fins look terrific under actinic lighting. A. japonicus is very hardy and lives in captivity fairly well.
Evan L
Bettendorf , IA
This is a extremely beautiful fish, that is really quite appealing. A rather hardy fish after acclimation and gets along well with my Picasso Trigger and Maroon Clown.
Hammad K
i have this tang. one of unique fish in my aquarium.
Charlie S
Las Vegas , NV
A beautiful fish. Mine is aggressive, especially towards other tangs, and butterflies. Ancanthuras could be considered the more dominate type of tang so consider that if you want more than one tang in your tank. That said ours is named "Panda Joe" and shows a lot of personality.
Jim I
Sandpoint , ID
Very healthy fish. I put him in my 55gall quartine tank. He started eating five minutes later. Thanks again!!!
Bob Y
New York City , NY
what an awesome looking fish! i ordered a medium sized one and it arrived very very healthy and huge. the fish is beautiful. more so than the powder blue i ordered also.
Michael B
Liverpool , NY
My Powder Brown and Blue tang arrived Friday. Both were in great condition.They are eating well too. This is my first order with Liveaquaria. Once these fish make it through quarantine I will move them to my 180. Then I will be back to order more fish. Very healthy fish.
Jim M
Colorado Springs , CO
Like pretty much everyone else mentioned, my fish arrived is remarkably healthy. Very impressed with this site. The fish hit the tank feeding and acting like it had always been there. Not too mention the fish is quite beautiful. I think it took two days before it is eating from my hand.
Mark H
Apple Valley , MN
I received an amazing Powder Brown, larger then I ordered which I was very pleased with. The Powder Brown is absolutely beautiful, never have seen a nicer looking fish. The fish eats everything and nips at the algae on the rocks, First time I've ever been able to keep a powder brown.
Brad H
Yakima , WA
Beautiful fish. I acclimated for about an hour, and as soon as she was released, she went straight to work, picking various algae off of my rocks!